Ordan Cargo Ltd. was established in 2001 as a private company by Ms. Elinor Pridan, a veteran of some twenty five years in the Forwarding Business
Ordan Cargo Ltd. Supplies a wide range of services to its customers including, International Forwarding (Imports as well as Exports), Custom Clearance, Inland Transportation, Packing, Insurance, Express Services as well as Bonded, Warehouse, Logistic Support and Exhibitions.

ORDAN CARGO OFFERS ALL THE RELEVANT FREIGHT FORWARDING AND LOGISTIC SERVICES:
Custom Clearance.
Warehousing as well as Bonded Storage Facilities for longer periods.
International Freight Forwarding – Air , Sea and Land.
International Courier Services.
Marine and Air Insurance Services.
"Time Critical" Shipments.
Purchasing Services including Letters of Credit, Documentary Credit and Logistic assistance.
Specialty Shipments- including Exhibitions and Entertainment Shows.
Third Party Drop-Shipments.
Arms Shipments.
Ro-Ro Shipments.
Chemicals.
Dangerous Goods - Hazardous Materials.

Ordan Cargo's vision is focus on the high level of customer service built around the understanding that every client has special needs and problems which have to be addressed, dealt with and solved in the most prudent and efficient manner in every phase of the chain of supply.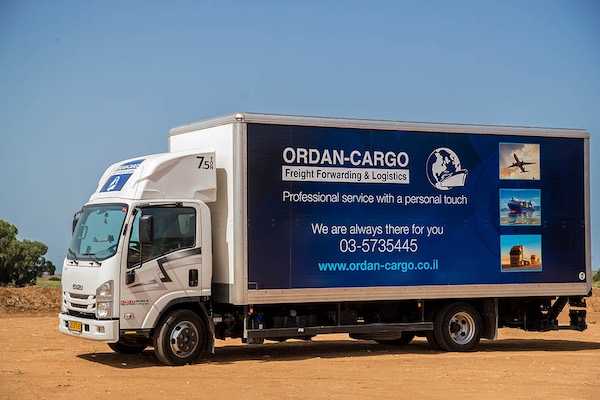 Ordan Cargo is an IATA agent and has also the IMDG code certificate.

We specialize in handling temperature controlled goods and perishables such as Chemicals, Pharmaceutical Products and Human Tissues.
We are also able to supply different packing solutions to special shipments.
Our team of specialists are available around the clock, seven days a week.
Ordan Cargo's Service Providers are characterized by their Responsibility, Flexibility and Initiatives.